Customer Notice
We appreciate you might be worried about the impact of coronavirus (COVID-19) and wanted to reassure you that we're here to help.
We want to keep our phone lines open as much as possible for those customers who really need our help. You may be able to find what you are looking for, on our website, therefore please visit the FAQ section of our website before calling.
If you have you recently sent us an email we will aim to respond within 5 working days, however due to the current unprecedented contact volumes this may take a little longer than usual.
New Customers - if you have recently applied for a new account;
Your Welcome Pack contains your unique User ID which will allow you to access your account online.
This normally arrives within 3-5 working days from the date your account is opened. (Please be aware that the normal postal times may also have been impacted by coronavirus).
Your initial investment will take 1 full working day to be applied to your account. For example, if your transaction is received before 3pm it will be applied to your Vanquis bank savings account by close of business that same day. Transactions received after 3pm will be applied by close of business the next working day.
For all other queries please refer to the FAQ section of our website.
Please remember you can view your account balance and give us your maturity instructions via Online Banking too.
Our contact details can be found on our Contact Us page, which is here https://www.vanquissavings.co.uk/contact-us/
Vanquis Savings Team
Fixed Rate Bonds
Choose to invest for 6 months, 1, 2, 3, 4 or 5 years
Invest up to a total of £85,000 for FSCS protection
Choose to have interest paid either monthly or annually
Manage your accounts online
Make your deposit with one simple payment
Supported by a dedicated UK based Customer Service team
Protecting your money
Your eligible deposits with Vanquis Bank Limited are protected up to a total of £85,000 by the Financial Services Compensation Scheme, the UK's deposit protection scheme. Any deposits you hold above the £85,000 limit are not covered. Please click here for further information or visit www.fscs.org.uk.
These bonds are a limited offer and may be withdrawn at any time.
*AER stands for annual equivalent rate and illustrates the interest rate if interest was paid and compounded once each year.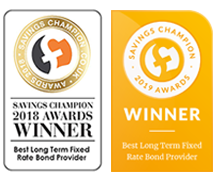 We are proud to announce
Vanquis Bank Savings has been awarded the Winner of the Best Long Term Fixed Rate Bond Provider category and has been Highly Commended as the Best Fixed Rate Bond Provider in the 2017 Savings Champion Awards.