Fixed Rate Bonds
Choose to invest for 6 months, 1, 2, 3, 4 or 5 years
Invest up to a total of £85,000 for FSCS protection
Choose to have interest paid either monthly or annually
Manage your accounts online
Make your deposit with one simple payment
Supported by a dedicated UK based Customer Service team
Protecting your money
Your eligible deposits with Vanquis Bank Limited are protected up to a total of £85,000 by the Financial Services Compensation Scheme, the UK's deposit protection scheme. Any deposits you hold above the £85,000 limit are not covered. Please click here for further information or visit www.fscs.org.uk.
These bonds are a limited offer and may be withdrawn at any time.
*AER stands for annual equivalent rate and illustrates the interest rate if interest was paid and compounded once each year.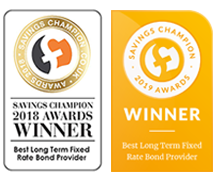 We are proud to announce
Vanquis Bank Savings has been awarded the Winner of the Best Long Term Fixed Rate Bond Provider category in the 2017, 2018 and 2019 Savings Champion Awards.